Call for Papers
Journal of Art, Design and Music (JADM) Call for Papers Volume 1, Issue 2, June 2022
Journal of Art, Design and Music (JADM) is an Open-access, peer-reviewed biannual journal which is published by Helwan University, Egypt, is seeking submissions for original research, review articles, theory papers, book review, and case studies in its second issue in June 2022.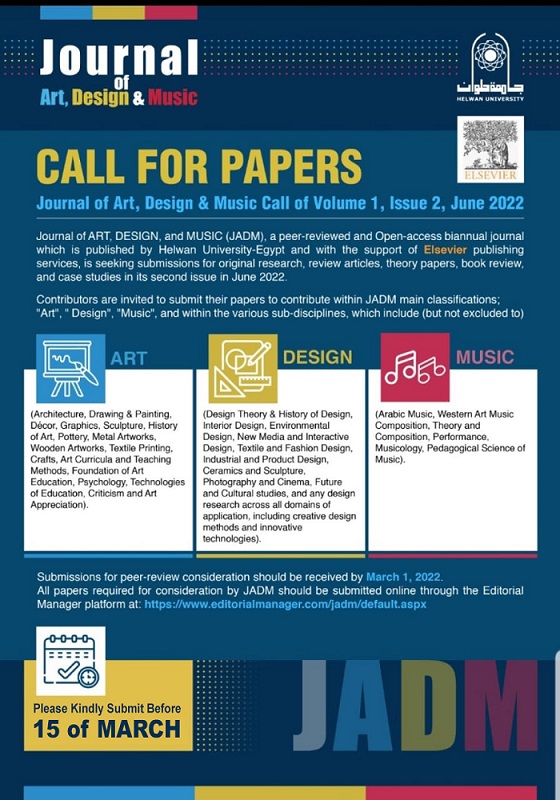 Contributors are invited to submit their papers to contribute within JADM main classifications; "Art", "Design", "Music", and within the various sub-disciplines, which include (but not excluded to);
Arts (Architecture, Drawing & Painting, Décor, Graphics, Sculpture, History of Art, Pottery, Metal Artworks, Wooden Artworks, Textile Printing, Crafts, Art Curricula and Teaching Methods, Foundation of Art Education, Psychology, Technologies of Education, Criticism and Art Appreciation).
Design (Design Theory & History of Design, Interior Design, Environmental Design, New Media and Interactive Design, Textile and Fashion Design, Industrial and Product Design, Ceramics and Sculpture, Photography and Cinema, Future and Cultural studies, and any design research across all domains of application, including creative design methods and innovative technologies).
Music (Arabic Music, Western Art Music Composition, Theory and Composition, Performance, Musicology, Pedagogical Science of Music).
Submissions for peer-review consideration should be received by March 15, 2022. All papers required for consideration by JADM should be submitted online through the Editorial Manager platform at: https://www.editorialmanager.com/jadm/default.aspx.